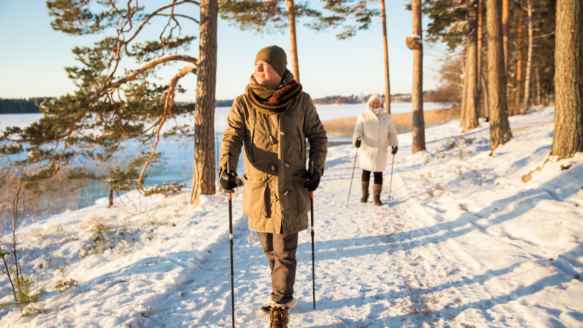 12 Great Ways to Invest in Yourself
What's the first thing you think about when you hear the word "investing"? Probably investing in stocks, real estate, or savings. But what about yourself? Whether that's expanding your knowledge, developing positive new habits (while breaking negative ones), or getting your financial and personal affairs organized, it's your responsibility to give back to yourself before you can give your time and energy to other people and things.
Investing in yourself is a sure-fire way to heap a return on investments. And we promise, after spending these next 12 months working on yourself, you'll be glad you did.
Here are 12 great ways you can invest in yourself in the New Year:
Embrace lifelong learning

Education doesn't end once you leave the classroom, and you can build your skill set and feed your passions with lifelong learning. There's still so much to learn in this world and there are so many ways to access new information. If you're interested in enhancing your financial literacy this year, look no further. We offer lots of free online resources to help you get started on your financial journey―from online courses and money tips to resources and tools. Whether you'd like to learn more about budgeting, paying off debts, planning for retirement or credit, we have something for everyone.

Prioritize your mental health

According to a 2018 study, at least 44% of Canadians believe their financial state impacts their mental health in a negative way. Are you one of them? This year make your mental health a priority by checking in with yourself regularly to manage stress levels and prevent burnout. Give yourself permission to take a break, make a mistake and set boundaries. Understand that you might not be where you thought you'd be right now (who is?) but that you'll get there one day.

Set goals

We know it might feel pointless to set 2023 goals―considering how well everyone's went last year―but hear us out. These goals don't have to be sweeping, over-arching goals like paying off all your debts (especially as we don't know how the economy is going to fare this year). They can be as simple as setting up auto payments with your financial institution, limiting eating out to only once per month, or updating your resumé. Whatever short-term and perhaps long-term goals you choose to focus on this year, make sure they're obtainable and won't leave you feeling worse off at the end of the year if you don't accomplish all of them.

Find a mentor

We could all use a friend to talk to―especially about our finances. Find a financial mentor this year to help you navigate your money, so you can get closer to reaching your financial goals. We recommend starting here, at Money Mentors. Our accredited counsellors offer free, unbiased credit counselling and money coaching to Albertans, helping you see your financial worth and all that you are capable of.

Start a journal

We've already talked in the past about the importance of money diaries, so if you haven't started one yet, now's your chance. But your journal doesn't have to solely be focused on money. It's a great, safe space to reflect, plan, visualize and forgive. There are lots of benefits to journaling, like managing stress, identifying issues, and solving problems. It's also a great place to practice gratitude and set goals.

Practice gratitude

You don't need to wait until Thanksgiving to be grateful for everything that you have. Practice gratitude regularly to help you gain perspective and feel comfortable about where you are at in life. You might not be debt-free yet or have enough savings for a down payment, but we guarantee there are parts about your life that you're thankful for. Whether it's for your family, friends, pets, hobbies, habits, or coffee―cultivate gratitude for at least one person or thing each week to help keep you motivated.

Break a bad habit

What bad habit do you have that you tell yourself you'll stop year after year? Whether it's spending money emotionally, smoking, spending too much time on a device, etc., we know you have one. We all do! This year let's work on finally breaking that bad habit. Make a list in your journal of all the reasons why you want to break this habit (like how it's impacting your financial, mental, social or physical well-being) and all the steps you're going to take to finally be rid of it (like replacing the negative habit with a positive one). It'll take time and perseverance, but just think about how good you'll feel by the end of the year!

Get organized

Do you know where your important papers are? Can you find your SIN card or passport in a pinch? Probably not. It's okay to let yourself off the hook if you answered no to those questions because it's natural to feel disorganized in a world that is very not organized. Take some time this year to establish an effective organizational system for your finances, office, house, etc. Everything should have a place, so when it comes time to tax season, you're not running around your house looking for everything. This leads us to…

Procrastinate less

Whether it's waiting until the last minute to do our taxes or not creating an RRSP/TFSA yet, we all procrastinate. But who suffers in the end? We do. Make a list of all the things you've been procrastinating starting or completing and then devise a plan to get them done. Start with the easier tasks first and then tackle the harder ones. Trust us, it'll feel good ticking tasks off your to-do list!

Declutter

What's one of the best tips for starting a new year fresh? Cut out the clutter in your life. No, we're not talking about your paperwork or filing in this section. We're talking about all the things in your life that no longer serve you or that bring you down. Go through all the social media accounts you follow and pare them down to only the ones that inspire you, make you laugh, educate you, etc. "Doom-scrolling" and "passive likes" are so 2021―fill your feeds with positivity and authenticity from now on! Do the same with the people, items, food, habits, etc. in your life to brighten and lighten your New Year.

Make a budget

Chances are, if you're reading this blog post on our website, you're probably interested in personal finance. And if you've been here a while, you know that we're big believers in creating and maintaining realistic, working budgets. If you haven't made a budget yet, there's no better time than the present. Spend a month tracking your finances in a money diary, list your expenses, and then develop a budget that is both attainable and will help you reach your financial goals. Luckily, we have lots of free resources to help you start―from our budgeting workbook and spending plan or our free online course, "Budget Boot Camp."

Set boundaries

Did 2021 stretch you a little too thin? Do you have a hard time setting boundaries and saying no to others or to yourself? In your journal, write down all the things you wish you could have said no to last year and why you didn't. Analyze that list and reflect on the emotions associated with those regrets. Next, practice saying no. If something truly doesn't interest you or align with your values/goals (like weekly coffees with your co-worker), make a commitment to decline. It'll be hard at first, feeling like you're letting others down, but it's so worth it! This year, prioritize protecting your time, energy, and money by only saying yes and no to the people and things that make you happy. Setting boundaries will help you prevent burnout, too!