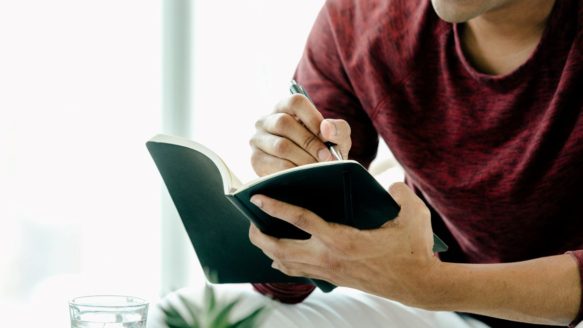 5 Reasons Why You Should Start a Money Diary
"Dear Diary…"
Do those words bring back painful/embarrassing memories from childhood, when you poured your heart and soul into the pages of your journal? You're not alone. Despite this, journaling has become an increasingly popular routine again―touting benefits from stress management to enhancing one's overall well being and productivity.
But did you know that journaling can also help your finances?
Here are five reasons why you should start a money diary today:

A money diary will help you learn how to budget

By seeing how much money you have coming in each month and where your money goes, you'll be able to narrow down an appropriate budget that works for you. At the end of the month, compare your original budget to what actually happened with your money. If you overspent (or under spent) in certain categories, find ways to adjust your budget.

A money diary will hold you accountable

How many times have you looked back at your bank accounts and honestly not remembered where your money went? By jotting down your daily purchases, you'll be able to see your spending habits and behaviours (both negative and positive) and identify areas to improve.

A money diary will keep you on track

Life gets busy, so it's only natural to sometimes miss a payment, procrastinate making a financial decision or forget about an upcoming event that will cost you money. By keeping a money diary, you'll have a daily reminder of everything you need to do so you're less likely to forget or choose to ignore it.

A money diary will help you appreciate your wins

How many times have you looked back at the past month, only to feel unenthused or even forgetful about the moments you shared, created or learned from? A money diary will give you the space to take note of your daily happenings, so you can appreciate your growth that month and all the wins you had along the way.

A money diary will help you reach your financial goals

Whether you want to tackle your debts, plan for retirement, build up your emergency fund, save for vacation or be prepared for your growing family, there are lots of financial goals to aim for in life. A money diary can help you see the big picture while also getting down to the nitty gritty, which will ultimately give you the motivation and information you need to reach those financial goals.

Have we convinced you to start a money diary or spending journal yet? We hope so! Maintain the daily practice for a month to start and then review your finances from there. If you found the money diary helpful, try to keep it going for the rest of the year.

P.S. Don't miss Part 2 of this series on the six steps to take when starting a money diary―out now!