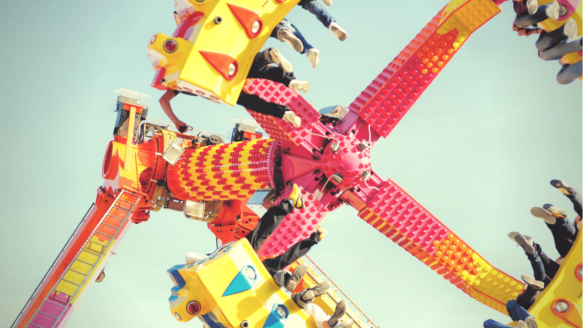 Calgary Stampede on a Budget
Calgary is gearing up for a great summer with fun events happening all season long. One of the biggest events is the Calgary Stampede from July 7-16, which attracts more than a million attendees from international tourists to Albertans and many local patrons. As Calgary gears up for the "Greatest Outdoor Show on Earth", it is best to pre plan your trip to stay on budget and avoid overspending. Our Money Mentors team has put together the following tips on how to enjoy Stampede within your budget.
Calgary Stampede Free Admission Days
Ticket prices at the door can be expensive. There are certain days where admission is free and this is a great way to stay on budget at the Stampede. Plan your visit on the following dates for free gate admission to the Stampede:
Friday, July 7 – 11:00 AM – 1:30 PM – All Ages
Parade-To-Park – Watch the parade and then enjoy the rest of the day at the Stampede.
Sunday, July 9 – 8:00 AM – 11:00 AM – All Ages
Family Day – with a FREE pancake breakfast at 10:00 while supplies last.
Tuesday, July 11 – 10:00 AM – 2:00 PM – All Ages
TC Energy Community Day – Seniors enjoy an extra perk with free admission all day long AND free coffee and doughnuts until 10:30 AM.
Wednesday, July 12 – 8:00 AM – Midnight – Kids 12 & under
BMO Kids Day – Kids enjoy free admission all day long, and adults enjoy free admission until 10:00 AM AND free breakfast for everyone in the GMC Stadium Courtyard from 8:00-9:30 AM while supplies last.
If you are unable to attend one of the free days, the 'Stampede Superpass' is a great option if you are looking to go to the grounds more than once. At $51.45 per pass, you get unlimited admission for 10 days at a set price, saving you money and keeping yourself from overspending. Offer is available until June 6 at select grocery stores, such as Calgary Safeway, Sobeys and IGA, or Ticketmaster.
Remember that although you can enter the Stampede grounds for free on these days, you will still need to budget for the midway rides, games and food, if those are part of your Stampede experience.
More information can be found on the Calgary Stampede website.
Calgary Stampede Transportation
Save money on gas and be friendly to the environment with the following options:
Calgary Transit
Planning your transportation to the Calgary Stampede via Calgary Transit is a budget friendly way to reduce spending. Plan for your Stampede budget by adding in transportation costs.
Single transit ride tickets
Adult $3.60
Youth $2.45
Child Under 12 is free
*Weekend Group Pass $15 – this pass is available on Saturdays and Sundays for a group of 5 people  – 2 adults and 3 youth, 12 and under are free. This is the most economical transportation pass to experience the Stampede.
Carpool
If it is an option, consider carpooling with others. If someone you know has a larger car or van, travel together to save gas and time to find parking.
Free Parking
Although free parking may be hard to come by, if you must commute with your own vehicle, try to find free parking or park at a Park-and-Ride lot and take public transportation to the grounds.
Budget for Your Calgary Stampede Experience
Prior to visiting the Stampede grounds, plan ahead to manage expenses and avoid overspending– create a budget, consider different interests and decide how much you can spend during the day. Keep yourself on track with Money Mentors Budget Planning Spreadsheet and check out our resources page for other financial tools and tips.
Costco Stampede Bucks
Did you know you can pre-purchase Costco Stampede Bucks to spend like cash on the grounds? For $39.99 you can purchase 10 Stampede Bucks, valued at $5 a piece. You can use these bucks like regular cash for admission,  the rodeo and evening show, Midway games and rides or for retail shopping at selected stores AND if the $5 coupon is not used for the entire purchase you even get change back in cash! Stampede Bucks are available for sale at any Calgary Costco location.
Stampede Coupon Prices for Midway Rides
A fun part of Stampede is going on the rides so you will need some tickets. This is where those Stampede Bucks from Costco really help you save because you can pay $39.99 and receive a value of $55! If you love going on rides this is your best value to grab the Ride All Day Wristband. If you want to enjoy a few rides then you may only need a few coupons.
1 Coupon – $1
11 Coupons – $10
22 Coupons – $20
55 Coupons – $50
Ride All Day Wristbands – $58 – this can be purchased at a 25% discount at Sobey's while supplies last for $37.85 vs $58 on the grounds.
The amount of money you need for the Calgary Stampede depends on what activities you want to do while you are there, how many people you need to budget for, which day you attend, and the transportation you choose.
If you go on a free admission day, take public transportation with the group weekend pass, bring your own water and snacks and buy Stampede bucks at Costco, budget a minimum of $40 per person (unless you plan to enter for free and simply walk around without spending). However, if you pay for admission, pay regular prices for ride coupons, purchase food and drinks, attend concerts and extra events, and drive and pay for parking, then budget $100-$200 per person.
Here are 3 scenarios to help you budget for Calgary Stampede:
The Frugal Stampeder: $0 – $55
Go on a Free Admission day $0
Take Calgary Transit or get a ride: $0-$15
Buy Stampede Bucks at Costco: $39.99 (10 tickets valued at $55)
Pack your own food and drinks: $0
Enjoy a free Stampede breakfast or bbq: $0
The Sky's the Limit Stampeder: $100 – $941+
Pay for admission: $23 for general admission
Buy food and drinks: $20-$100 per person depending on how many meals, snacks and drinks you purchase
Get the Ride All Day wristband: $58 per person
Park at Stampede: $15
Buy Rodeo tickets: $42 – $370
Buy Evening Show tickets: $78 – $375
Family of 4 Stampede Fun: $413+
*Based on the purchase of two general admission tickets and two kids under 7, parking, wristbands for rides, and $30 for food and drinks per person, a family of 4 could plan to spend $413. If you add rodeo tickets then the total is $581, and if you also add evening show tickets then the total is $893.
Cash-only Stampede Budget
A tried and true method at Money Mentors for budgeting is to use a cash-only budget. Once you have priced out your day at Stampede you will know exactly how much you will need to put into an envelope for your cash budget. There are two ways you can do this: one envelope for your entire Stampede experience or an envelope for each category i.e. Transportation, Admission, Midway Rides, Food and Drinks, and Souvenirs.
How you manage your cash budget depends on your preference and how you like to organize budgeting. If you are working within a very fixed budget already then you will need to decide how you can save money from reducing spending on other allocated items like groceries – going meatless for two meals a week, or not buying treats like ice cream, cookies and chips. A bit of a bonus hack on cash budgeting is that if you budget for all the different categories but take advantage of free admission days and ask someone to drop you off and pick you up then you have saved money for things that you can shift over into another category like food and drink.
Free Events in Calgary During Stampede
Calgary's national and international identity is tied to the Calgary Stampede. The city comes to life with various events throughout the city. If the grounds aren't your scene, the city offers plenty of free events during this time to celebrate our western culture!
Free Pancake Breakfasts
There is nothing that screams Stampede like the sizzling sounds of sausages and the smell of delicious pancakes in the air! During the 10 days of Stampede, you can view the Breakfast Calendar for various businesses and locations offering free pancake breakfasts in the city:
Sunday, July 9 – 9:00 AM – 12:00 PM
Triwood Stampede Breakfast
2244 Chicoutimi Drive NW, Calgary, AB
Sunday, July 9 – 7:30 AM – 11:00 PM
Wood's Homes Stampede Breakfast
9400 48 Ave NW, Calgary, AB
Thursday, July 13 – 9:00 – 11:00 AM
14500 Bannister Road SE, Calgary, AB
Sunday, July 16 – 9:00 – 11:00 AM
Harvest Hills Alliance Church
10099 Harvest Hills Blvd NW, Calgary, AB
Take advantage of the popular pancake breakfasts offered by the Stampede Caravan during all ten days of Stampede!
Free Entertainment
Calgary Stampede Coca Cola Outdoor Stage
Enjoy free music on the Coca Cola outdoor stage within the Calgary Stampede grounds. Take advantage of free admission days for a completely free outing.
Remember, it is fun to attend the Calgary Stampede, but it is not fun to open a credit card statement filled with overspending that could have been avoided with a little budgeting to keep you in check. It's also ok to say no to the more costly events and keep things within a small budget.
If you need any additional information or would like to chat with a non-profit credit counsellor about budgeting, book an appointment or give us a call.
Calgary Stampede FAQs
How much money do you need for Stampede?
At minimum you will need to budget $40 (assuming you get all the deals), otherwise a typical day could cost anywhere from $100 and up.
How to save money at Calgary Stampede?
Follow these tips to save money at Calgary Stampede:
Plan to go on a day with free admission
Price out the activities you want to do
Take your own snacks and water (do not spend money on food)
Use Calgary Transit or arrange for someone to drop you off and pick you up. Families can buy the Calgary Transit group weekend pass
Buy Stampede bucks at Costco to get more for your money
Write out your budget ahead of time and stick to it
Use a cash budget