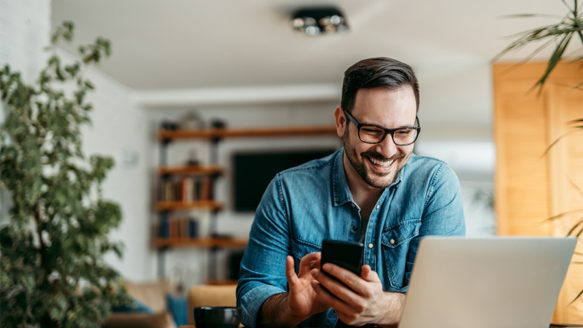 15 Practical Ways to Get Out of Debt in Alberta
If you've found your way to this post, there's a good chance that you're struggling with some kind of debt. We want to begin by saying that if things are looking dark and scary for you right now, they can and will get better. But you need to take small steps. Simply by being here and reading this article, you are already moving in the right direction.
We decided to list 15 practical ways to get out of debt in the article below, but we don't want to overwhelm you. The goal here isn't to try and do all 15 of these steps, but rather to pick one or two that you can start doing right away. Then maybe next week or next month you can add a few more, and before you know it, you'll have an actionable plan and a realistic goal.
The steps below aren't in any specific order. Some require very little assistance and you can start right away, while others will require some help. We chose to begin and end with our two most important tips: to make a budget and to speak with a credit counsellor. Doing these two things will put you on the right track to becoming debt-free.

Make a Budget to Get Out of Debt

The best way to get out of debt is to get debt advice from a professional and make a budget you can stick to. At Money Mentors, we'll never get tired of putting this at the top of our lists, because our goal is to provide advice that is truly effective. That's why in your very first free appointment with Money Mentors, one of our Credit Counsellors will walk you through our spending plan and send you a copy at the end of the meeting.

Prioritize your Debts

Not all debts are created equal and it's important to determine which debts to pay down first. Some will be larger than others, and different debts will come with different interest rates. Getting a good line-of-sight on your entire debt situation is crucially important. Get those credit card bills, grab a piece of paper and write down all of your debts. Order them in terms of interest or debt load. We have useful tools to help you reach a decision, like our Accelerated Debt Payoff Calculator, and our free online financial education courses.

Try a Balance Transfer Credit Card

Depending on the size of your debt, a good first option is to consider a low-interest balance transfer credit card. Many banks will offer a low-interest credit transfer as a way of attracting new customers. Check with your current bank if this is something they offer. If not, consider switching to a bank that does. This can be a great short-term solution, however, the low interest won't last long and you will eventually need to pay higher interest.

Pay More than the Minimum Balance on Your Debt

This is easier said than done. However, once you've completed step one and created a workable budget, use any extra money to start paying more than the minimum. This approach to debt may require a shift in your money mindset but it  will allow you to start chipping away at your debts and bringing down your payments. Also, if you receive any windfall income, consider putting that towards your debt.

Roll Down Your Debt

Rolling down your debt, sometimes referred to as the Avalanche method, is a tactical way of paying off your debts. First, you choose the debt with the highest interest rate and target that with your payments. Then, you choose the debt with the next highest interest and start paying that one off. This method results in you paying less interest over time.

Try our calculator!

We have a calculator that can help you with the avalanche method. It's called 'Roll Down Your Debts' and our clients find it very helpful. Enter your credit card balances, interest rate and minimum payment. Try for free by clicking here.

Try a Cash-Only Budget

You will often be required to cut up your old credit cards and move to a cash-only budget when you go on a formal debt management plan. If you are not yet at the point of needing to go on a specific program, try to get ahead by implementing this tactic early. By moving to cash only, you stop yourself using credit, making it easier for you to get out of debt.

Negotiate With Your Creditors

Before looking for help from an accredited non-profit credit counselor, it is often a good idea to have a chat with your creditor yourself. If your credit score is reasonable and your debt load isn't too high, there will often be an opportunity to negotiate with your creditors. This could involve a debt consolidation loan, or an interest rate reduction.

Consider an Informal Debt Management Plan

Last month we wrote a blog post that gives an overview of the best alternatives to bankruptcy in Alberta. We separated the post into formal and informal debt management plans. An informal debt management plan usually involves sitting down with a credit counselor to write up a plan for how you are going to pay back your debt. This is then given to the creditors for them to agree on. Unlike a formal debt management plan like the OPD program, this option isn't legally binding.

Apply for a Debt Consolidation Loan

One thing that might come out of a negotiation with your creditors, is the availability of a debt consolidation loan. If you have multiple different credit card debts, a debt consolidation loan can be a good way to bring all of those debts together under one monthly payment at a lower interest rate than what you were paying previously.

Start a Side Hustle or Get a Second Job

It's important to point out that this step is obviously not realistic for many people. If you're a working parent, then you probably barely have enough time for one job, never mind two! But if you find yourself with extra time on evenings and weekends, a second job or a side hustle can be a great way to give yourself a financial boost in order to get some of that debt paid off.

If you have a skill-set that can be turned into a side-hustle, consider using a site like Upwork, Fiverr or Freelancer to make some extra money on the side.

Cut Back on Spending

Cutting back on spending is a difficult thing to do, especially with the rising costs that we're seeing everywhere. Check out our blog post on Ten Frugal Habits to Save Money for some tips on saving money, try these tips to cut back on spending and find ways to stop spending money outside your budget.

Sell Unwanted Items

There's a buyer out there for almost everything these days. Consider using Kijiji or Facebook to sell unwanted items that have been gathering dust in your closet. However, be careful! We recently wrote a blog post on the 12 Most Common Scams and How to Avoid Them. We mentioned scams affecting buyers, but there are also a lot of scams that target sellers! Make sure to meet with your buyer in person in a bright public space with security cameras.

Try a Consumer Proposal

A consumer proposal is an example of a formal debt management solution. It involves working with a Licensed Insolvency Trustee to write up a legally binding agreement between a debtor and their creditors. Suitable for those with less than $250,000 in debt, this option is provided by for-profit companies and comes with fees.

Try the Orderly Payment of Debts (OPD) Program

The OPD program is a debt management program administered by Money Mentors on behalf of the Government of Alberta, and legislated under the federal Bankruptcy & Insolvency Act (BIA). Working with your very own credit counsellor throughout the entire process, your debt is consolidated into one monthly payment with a simple, fixed interest rate of 5%. Read about how Teresa paid off $106,000 of debt through the OPD program!

Chat With a Credit Counsellor

Getting out of debt is a difficult task. But it's even more difficult to do alone. That's why it's so important for you to get help from an accredited, non-profit credit counsellor. People often make the mistake of assuming that booking an appointment with a credit counsellor at Money Mentors means you need to sign up for the OPD program.

Let us say loudly and clearly – it doesn't!

In fact, a credit counsellor can suggest free online courses to help you better manage your money like Break the Cycle: Spend Less & Save More and Tackle Debt. We see many people every single day who just need help with budget, or want to know more about their credit score. That's what we're here for. So please, if you have any questions or concerns at all, pick up the phone and give us a call! And remember, we have credit counsellors in Calgary, Edmonton, Medicine Hat, and Red Deer, and Lethbridge.