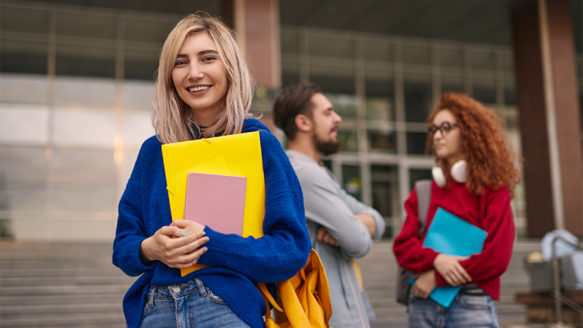 Student Loans vs Student Lines of Credit: Paying for Education
We get it – embarking on a new academic journey is both thrilling and a tad overwhelming. You're likely asking yourself, "How am I going to pay for my education?" You're not alone. The path to deciphering the best way to fund your studies, be it through provincial and federal student loans, student lines of credit, or a blend of both, can seem daunting. That said, it's important that you fully understand all of the options in front of you so that you can make the right decision. In this detailed guide, we'll unravel the differences of student loans versus student lines of credit to pay for your education in Alberta, ensuring that you're equipped with the knowledge to make the right decision for your future.
For tips on saving while studying, explore our 10 Money Saving Tips for Students.
What is a Student Line of Credit?
A student line of credit is a special kind of bank account, tailored to the changing needs of students in post secondary education. Instead of putting money into this account, the bank lets you take out, or "borrow," money up to a certain amount. You can borrow as much or as little as you need from this set amount. Over time, you pay back what you borrowed, and you'll be charged interest on the amount you took out. If you repay some or all of the money, you can borrow it again later. It offers flexibility, allowing you to use funds on-demand, unlike a regular loan where you get a lump sum all at once.
Put another way, if planning your student financial life feels a bit like walking a tightrope, then your student line of credit is like a safety net, ready to catch you when unexpected financial curveballs knock you off balance.
How Does a Student Line of Credit Work?
A student line of credit works a lot like a student credit card. The amount you can borrow depends on what kind of post-secondary education you are enrolled in. For example, general undergraduates can usually borrow up to a maximum of around $80,000, whereas medical or veterinary undergraduates can borrow up to $350,000. Interest rates are usually somewhere around the prime rate + 1%, although some banks may vary. It's best to check the specific details with each bank.
Here are some links to the main banks offering student lines of credit:
If you are in Alberta, try a local bank:
Want to dive deeper? Our guide on Line of Credit Basics has got you covered.
Who is Eligible for a Student Line of Credit?
Eligibility for a student line of credit typically requires the applicant to be enrolled in a recognized post-secondary institution in Canada, either full-time or part-time. Additionally, since students often lack a credit history, many financial institutions ask for a cosigner, like a parent or guardian, to guarantee the debt. Specific eligibility criteria might vary between banks, so it's important to check with individual financial institutions for their requirements, which you can do via the links above.
How Do I Apply for a Student Line of Credit?
To apply for a student line of credit, contact any of the main banks listed above and make an appointment. To make sure you are well prepared, consider preparing the following:
Provide your current residence details. If you've lived there for under three years, you'll also need to list your former address.
List out your yearly income sources and amounts.
Detail your monthly housing expenses, whether rent or mortgage.
Note any monthly obligations like loan repayments, credit card dues, or other lines of credit.
Outline your routine household expenditures, such as utilities, property taxes, and insurance.
Make sure to have your proof of your university enrollment.
Questions from Students and Parents
Can I get a student line of credit with bad credit?
Obtaining a student line of credit with bad credit may be challenging, but it's possible if you have a cosigner with good credit.
How long do you have to pay off a student line of credit?
Borrowers with a student line of credit are required to pay interest throughout their study period. After completing their studies, they are given a grace period before they must start repaying the principal. During the study period, the interest rate is typically lower, at prime + 1%. Unlike some student loans, a drawback of a student line of credit is that interest must be paid while still in school.
What is the biggest disadvantage for getting a student line of credit?
The biggest disadvantage of getting a student line of credit is the immediate accrual of interest during your studies, which can increase the overall debt amount by the time you graduate.
The Risks of Co-signing a Student Line of Credit:
Based on observations from our experienced counsellors, co-signing a student line of credit for a child can lead to unforeseen financial difficulties for parents further down the line. Clients approaching retirement have reported long-term commitments to these loans due to students making only minimum payments. The attachment to the loan can negatively impact the parent's Total Debt Ratio (TDR) and credit utilization, sometimes resulting in denied home refinancing or significantly increased interest rates after refinancing. We always advise those considering co-signing a student line of credit to approach the issue with real caution and a clear debt repayment strategy.
What is a Student Loan?
A student loan is a type of financial aid provided by the government to help students cover post-secondary education costs, including tuition, books, and living expenses. Unlike scholarships or grants, which are typically based on merit or need and don't need to be repaid, student loans must be paid back over time, usually with interest. In Canada, both the federal and provincial governments offer these loans, ensuring that students, regardless of their financial background, have an opportunity to pursue higher education. The interest on student loans starts accruing after a specific period, making it essential for students to understand the terms of their loan.
For tips on swift repayment, see 12 Ways to Pay Off Alberta Student Loans Fast.
How Does a Student Loan Work?
Students borrow money to fund their education and are required to repay this amount, usually with interest, after completing their studies or upon leaving their university or college. The student loan interest rates in Canada vary based on the loan type and the student's province or territory. In Canada there are two main types of student loans: federal loans provided by the Government of Canada and provincial loans provided by the province or territory. While both assist with education costs, they may have different terms, eligibility criteria, and repayment plans.
Who is Eligible for a Student Loan?
To be eligible for a student loan in Canada, you must be a Canadian citizen, permanent resident, or designated protected person, enrolled in a full-time or part-time degree, diploma, or certificate program at a recognized post-secondary institution.
How do I Apply for a Student Loan?
You can apply for federal and provincial student loans together with one application through your province or territory.
If you are reading this in Alberta, click here for more information on how to apply through Alberta Student Aid.
What is the Difference Between a Student Loan and a Student Line of Credit?
The main difference between a student loan and a student line of credit is related to the amount of money that is borrowed and how much interest is paid. With a student line of credit, you only pay interest on the amount of credit you use. With a student loan, you borrow a defined amount of money and pay interest on the whole amount. We prepared a table with some of the other differences.
| | Government Student Loans (Federal & Provincial) | Student Line of Credit (Financial Institution) |
| --- | --- | --- |
| Source of Funding | Offered by the provincial and/or federal government for students in post-secondary education. | Provided by financial institutions for post-secondary students. |
| Repayment | Starts post-graduation with a six-month grace period; interest accrues after this period. | Begins immediately post-study, initially focusing on interest before shifting to principal. |
| Eligibility Consideration | Primarily based on the student's financial need. | Depends on both the student's and their parent(s) or guardian's financial status. |
| In-School Payments | No payments needed while studying. Potential for deferred payments based on financial need. | Interest-only payments required during the education period. |
| Interest & Assistance | Option to apply for debt repayment assistance. If eligible, interest can be subsidized. | Monthly interest payments required during study; 6-12 month grace period post-study. |
Student Loans and Student Lines of Credit Pros & Cons
Student Loans
Student Lines of Credit
Pros
– Fixed repayment terms
– Flexibility in accessing funds
– No interest accumulation on federal student loans (as of April 2023)
– Only pay interest on what you borrow
– Possible eligibility for forgiveness programs
– May offer grace period after graduation for repayments
– Interest paid may be tax deductible
– Allows for continuous borrowing up to the credit limit
Cons
– Limited borrowing amount
– Interest rates might be higher and interest payments begin while still in school.
– May not cover all education-related expenses
– Requires good credit history
– Delay in disbursement can affect budgeting
– Compounding interest can increase the owed amount
– Stringent eligibility criteria
– Possibility of overspending without disciplined use
Before You Apply for a Student Loan or Student Line of Credit
Before diving into the commitment of a student loan or a line of credit, it's essential to make informed decisions and ensure you're well-prepared. Mapping out your financial landscape will give you clarity on what you can afford, what you need, and how to repay it down the line.
Before applying for a student loan or student line of credit consider taking the following steps:
Draft a Comprehensive Budget: Tally up all your potential costs, from tuition and textbooks to living expenses. Do you know how to create a budget? We have a brand new course on budgeting aimed at students in grades 10 – 12.

Budgeting 101 for Grades 10 – 12

Students discuss needs vs wants, how to manage their money through fun exercises, analyze their net worth, and plan for the future. Find out more

Research Grants & Scholarships: Look into free funding opportunities that you won't have to pay back. See the links at the end of this blog post for more info.
Evaluate Savings and Family Contributions: Understand how much you can contribute without borrowing.
Compare Loan and Credit Line Options: Check interest rates, terms, and benefits from multiple institutions.
Understand Repayment Terms: Familiarize yourself with repayment expectations for each option.
Seek Financial Counseling: If possible, meet with a financial advisor or counsellor to discuss the best options for your circumstances. At Money Mentors, we offer Free Credit Counselling – give us a call today.
Review Your Credit Score: Especially if considering a line of credit, as it might affect your eligibility or interest rates. Not sure where to start? Check out this helpful blog post on Credit Ratings & Credit Scores
Once you've taken these steps, you'll be better positioned to select the financial aid that best suits your needs, ensuring you embark on your educational journey with confidence.
Should I Choose a Student Loan or a Student Line of Credit?
The answer to whether you should choose a student loan or a student line of credit when funding your post-secondary studies will depend on your own circumstances. You may also choose a combination of both.
Whichever option you go with, it's important to remember that paying for your education is an investment in yourself. Whilst there is undoubtedly a huge amount of stress that can come with big financial decisions, rest assured that you are making a huge step towards a richer, more meaningful life.
What To Do When You Cannot Repay Your Student Loan or Student Line of Credit
Student Loans
If repaying your student loan has become unmanageable, consider making use of the Repayment Assistance Plan (RAP). Eligible borrowers can benefit from reduced payments or, in some cases, have their interest or even principal covered by the government. Starting July 1, 2023, RAP's income eligibility is expanded, assisting even more students. Learn more about RAP here.
Student Line of Credit
A student line of credit differs from government student loans, and unfortunately, options like the Repayment Assistance Plan (RAP) aren't available for these types of debts. If you find yourself struggling to repay your student line of credit, it's important to act swiftly and consider alternative solutions.
One such option is the Orderly Payment of Debts (OPD) program. Managed by Money Mentors, OPD offers a consolidated approach to managing multiple debts, including student lines of credit. Under the OPD, all your qualifying debts are combined into one manageable monthly payment, often with a reduced interest rate. This helps simplify your finances and can provide some much-needed breathing room.
Resources for Student Funding
Student Aid Alberta Info on Student Loans
Student Aid Alberta Info on Eligibility Requirements
Student Aid Alberta Info on Grant Opportunities
Government of Canada Info on Student Loans
Government of Canada Info on Student Lines of Credit
Government of Canada Info on Scholarships Have questions?
Need more information or want to talk to an accredited financial counsellor for peace of mind? Let us help.
Call 1-888-294-0076 or book an appointment. It's free for all Albertans.