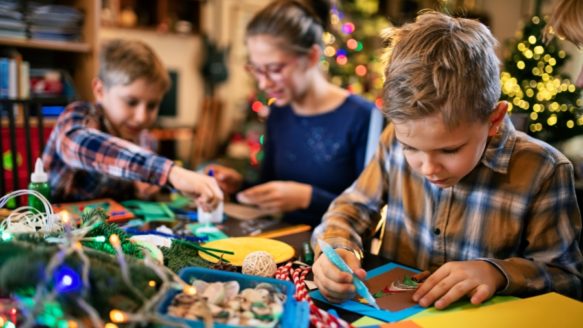 10 Best Ways to Spend Less at Christmas
The holidays are coming and with them comes the added stress of having to pay for everything. While December can be described as joyful and giving, January can sometimes feel the opposite—regretful and nervous about all the extra bills headed your way.
In an effort to help you have a less stressful January next year and avoid that debt hangover, we're sharing some tips that'll help you save money this holiday season. Gift These Tips!
If you know someone who might benefit from these tips, please consider helping them out by sharing this blog post with them. Or better yet, share it with your friends on Facebook by clicking here or with your followers on Twitter by clicking here..
Play a gift-giving game

One easy way to spend less this Christmas is to only buy one gift. Games like Secret Santa, Left/Right, and 'Twas the Night Before Christmas are a great way to still spread the holiday cheer while saving money. You don't need to buy gifts for every family member, as the important thing is the time spent together.

Set a spending limit

Before you set off to join the herds of people in the mall or scour the internet to shop online, talk to your friends and family about setting a spending limit for gifts. This will help you not go overboard and get creative with the gift-giving.

Make a list

Once you know who you're buying for, make a list of what you need to buy―and then stick to it! It's all too easy to go crazy while shopping if you don't have anything to follow. (And no, following your heart doesn't count, as the heart is all too giving this time of year.) This also goes for grocery shopping for all your holiday feasts and shopping for holiday décor and attire.

Stick to cash

Decide how much money you have to spend this season on gifts, food, décor, attire, etc. and then pull that exact amount out in cash, if possible. Once you've done that, divide it up into separate labelled envelopes based on the category. This will help you not overspend and help minimize the surprises in your bank account statements come January. Check out our post on a cash-only budget for help.

Give your time

Instead of buying gifts this Christmas, consider gifting your time. Think pet sitting, babysitting, dog walking, house cleaning, car cleaning, lawn mowing, snow removal or even just time spent together helping others.

Re-gift

We promise there's nothing wrong with giving away a gift you once received and never used. If you have no reason to keep it and you think someone else would appreciate it more, give it away.

Donate

Instead of buying gifts for your family or friends who already have what they need, suggest a group donation to an organization in your community. You can save some money and feel good about giving back.

Get crafty

Handmade gifts are always so meaningful and perfect for family members who live far away. Challenge yourself and your family to make something instead of buying a gift using materials you have on hand. This also works for wrapping gifts (like decorating craft paper/newspaper/boxes instead of buying wrapping paper).

Gift experiences

Instead of purchasing gifts for all your children and spouse, consider combining that money to give a family experience that you are already planning or saving up for. Think: An outing or membership to the zoo, science centre or water park, or a year's subscription to an online streaming site (like Disney+).

E-cards

If you like to send out holiday cards, consider sending e-cards this year to cut down costs and be a little more environmentally friendly.
Bonus tip
Start saving for next Christmas in January. The holidays are a lot more manageable if you've been putting away money each month instead of trying to come up with it all in November and December.