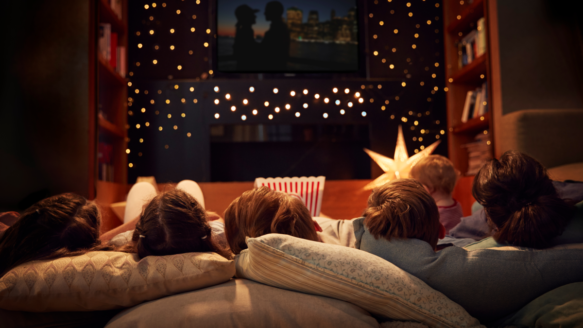 The 7 Worst Money Saving Tips for Winter
While we are half serious, we are also half joking. If you've seen The Shining, you are familiar with how winter isolation can impact your well-being. (And if you haven't seen The Shining yet, you should really add it to tip #1.)
We understand that saving money isn't fun and managing your money can be the worst. But while they may not be glamorous tasks, they are important ones that can help you become debt-free and reach financial freedom. The following tips will not only keep your bank account healthy this winter, but they'll also protect your health during a global pandemic.
Tip #1: Be a hermit and save money
Who loves movie marathons? We sure do! Choose a theme for your marathon (cozy, Christmas, action, fantasy, etc.) and then make a list of movies that fit within that theme. Take advantage of free movies from your local library and make use of those streaming subscriptions you already have. Pop some popcorn and create your own hot food menu to indulge in throughout the day.
Bonus tip: Tie these movie marathons in with a no-spend weekend and you'll save yourself even more money. AND you can talk throughout the entire movie without being shushed!
Tip #2: Cancel subscriptions and increase monthly payments on debt
Once you've had a movie marathon, go ahead and cancel your streaming subscriptions and any other monthly subscriptions you may have forgotten about or don't use much anymore. Use this season to get outside more and enjoy all that winter has to offer. Pick up a new winter hobby, like snowshoeing, hiking, ice skating or simply going for more walks after work. The money you save on subscription fees can be added to your monthly credit payments to pay down debt faster.
Bonus tip: If you can't cut your subscriptions fully, just use them less. We're all culprits of looking at our phones while watching TV and it can become far too easy to make online purchases when we're bored! Remove Apple Wallet and Google Pay from your phones and talk to your bank about setting up a folder within your existing account. This folder can act as a "cash envelope." Set a spending limit and transfer the money to your "cash envelope" attached to your debit card. As the balance decreases, it is a reminder to make mindful purchases to ensure your budget lasts through the month. This can serve as an alternative to paying cash in-store during restrictions on in-store shopping or paying with cash.
Tip #3: Turn down the heat and lower your gas bill
Instead of cranking up the thermostat when you're cold, dig through your closet (or your partner's) for warm socks and sweaters, and bring out your fleece blankets and heating pads. Winter is all about getting cozy, right?
Bonus tip: Turn the thermostat down again at night. You're already sleeping in a warm bed, cocooned under blankets, so you can let your thermostat rest for the night, too.
Tip #4: Shut yourself in
Sure, you might feel like the strange neighbour on the block―but you'll be that strange neighbour who is also saving money! During the day when the sun is shining, open the doors and blinds to warm your house up. Then later, when the day grows darker and cooler, shut your doors, close the blinds, and make sure your windows and doors are sealed so they don't let any heat out.
Bonus tip: Feel even more reclusive in your house by blocking the base of doors going outside with a rolled-up towel or door sock. This will prevent cold air from seeping in and causing your heat to turn on.
Tip #5: Skip the takeout and meal plan
Another heating trick? Skip the takeout and meal plan! Batch cook meals so all you have to do is reheat and eat throughout the week. This will help deter you from ordering food online, saving you money. Plus, using your stove/oven will help raise the temperature in your house.
Bonus tip: When your meal has finished heating, open the oven door to let the remaining heat escape into the house.
Tip #6: Be a Grinch and make DIY Christmas decorations
If you're trying to cut costs this holiday season, start with paring down your holiday decorations and gifts. Opt for a holiday wreath instead of lights outside and play Secret Santa (or another gift game) that lets you only buy one gift instead of many. Let your inner Martha Stewart shine and make pretty garlands from dried orange slices and cinnamon sticks. Not only will your decorating game be thrifty and save you money, your home will smell festive and delicious!
Bonus tip: Here are some other ways you can spend less at Christmas!
Tip 7: Switch the ceiling fan direction for winter
How many of you knew that if you switch the direction of your ceiling fan's movement, it'll help warm the room rather than cool it? By setting your ceiling fan to turn clockwise, all that warm air that typically rises will be pushed back down.
Bonus tip: If you have a humidifier, now's the time to bring it out. Winter can be a very drying season and all these tips to stay warm can wreak havoc on your body. Use a humidifier to help the air feel warmer and have that warmth last longer.