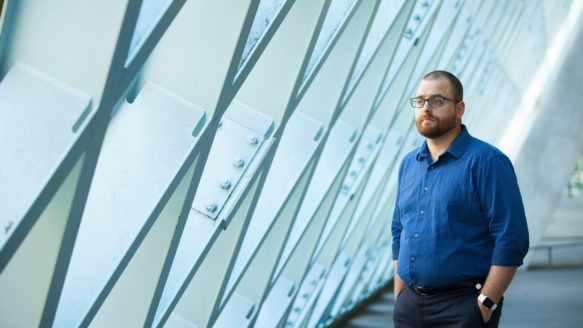 COVID-19 Alberta: Financial FAQs & Resources
As COVID-19 sweeps across Alberta and the rest of the world, it's understandable to feel scared or anxious about the financial impact all this may have on the economy and your bank account. Money Mentors would like to assure you that we are continuing to provide the vital service of debt and credit counselling during this difficult time. Our commitment to the health and safety of our clients, team, and community remains paramount. As a precaution to help limit the spread of coronavirus (COVID-19) and support the efforts of social distancing, we are responding in the following ways:
All staff members who have travelled outside Canada recently, are experiencing flu-like symptoms, or think they have been exposed to COVID-19 are staying home for the recommended 14-day period until they are symptom-free.
We ask that clients who are feeling unwell, have a cough or fever, or have travelled outside Canada within the last 14 days reschedule any in-person meetings and not visit our offices. Please take care of yourself and follow Public Health guidelines.
A no-handshaking policy has been implemented as part of social distancing.
Our Calgary and Edmonton offices have been treated with Aegis, a non-toxic, non-leaching anti-bacterial and virus mitigating product, focused on high touch surfaces. In addition, we have increased the frequency of cleaning in our offices.
Counselling sessions have moved to phone or Skype. We are doing everything possible to accommodate your needs to reschedule appointments.
How do I access financial assistance during COVID-19?

If you have been affected by COVID-19 and require financial support during this time, here is a comprehensive list of resources to look further into for individuals:
Federal government financial support
Find financial help during Covid-19
Find benefits that may help in your situation during Covid-19
Temporary Rent Assistance Benefit – Alberta
This short-term benefit provides a subsidy for working households with low income or those between jobs. Support should help eligible tenants afford their rent while they stabilize or improve their situation. Available for households in Calgary, Edmonton, Fort McMurray, Grande Prairie, Lethbridge, Medicine Hat and Red Deer, and most surrounding communities.
Read more about how to apply for Rent Assistance Benefit.
Updates on changes to the Canada Revenue Agency (CRA)
Follow this for updates on changes to services, due dates and programs affected by the pandemic.
Support for Indigenous Communities
Distinctions-based Indigenous Community Business Fund to address immediate needs in First Nations, Inuit, and Métis Nation communities.
Interest relief if you received COVID-19 benefits
If you meet all the eligibility criteria, you will get interest relief on your 2020 taxes owing. You still need to file your tax return by the due date to avoid paying any late-filing penalties.
Student financial assistance
Canada Student Loans Program (CSLP)
Changes to Canada Student Grants and Loans have been introduced so students facing financial challenges from COVID-19 can access and afford post-secondary education. For Students and young Canadians who have been particularly hard-hit by COVID-19, interest for full-time and part-time students on the federal portion of Canada Student Loans and Canada Apprentice Loans will be waived until March 31, 2023.
For a complete list of student financial assistance and programs, please visit the Government of Canada website and The Globe and Mail.
Additional resources
Service Canada Request Form
Service Canada urges Canadians to not visit Service Canada centres unless necessary. Visit eServiceCanada to see which programs are available online. Fill out the service request form and a Service Canada representative will contact you at the phone number indicated to provide assistance.
Find financial help during COVID-19
Answer a few questions to get a list of benefits and support tailored to you.
Prosper Canada Benefits Wayfinder:
To find out what government benefits you could qualify for and how to apply, access their Benefits Wayfinder.
COVID-19 Resources for Parents and Children
Children play an important role in preventing the spread of COVID-19. The resources for parents and children could help your child understand what is going on and how they can help.
Businesses
Financial support for businesses is being provided through the Federal Government at this time. For the most up-to-date information on business supports, visit the Government of Canada website.
As the situation with COVID-19 is rapidly changing, consult the Government of Alberta website and the Government of Canada website directly for new information on financial support. As well, Service Canada has begun the gradual and safe reopening of in-person locations across the country. Find out if your local Service Canada Centre is open.
How can Money Mentors help?
Money Mentors is dedicated to walking alongside you through every stage of your life―including this particularly difficult one. If you require debt help, credit counselling or money coaching to help you manage your money and get your finances back on track, we are only a phone call away! While we aren't scheduling in-person appointments at this time, our counsellors would be more than happy to chat with you over the phone or via Skype, so you can feel confident about where your money is taking you and less stressed about your financial future. Book your appointment today!
If you are self-isolating or in quarantine right now, we have lots of ways to keep you busy during this time. Our $500 Incentive Program is going strong and you can enter our monthly draws by successfully completing our free online courses! From budgeting, tackling debt, planning for retirement, surviving a layoff or understanding credit, we have lots of online courses for you to choose from and enhance your financial literacy.
For parents looking for ways to enrich their children's financial education during this time, we encourage you to complete our free online course, Enrich Your Kids, to learn effective ways to teach your children about money and set them up for financial success. We also have an online Youth Spending Plan to help your children manage their money better and an online game designed to teach youth the importance of making sound financial decisions. And if you're looking for ways to further your child's financial education while aligned with the Alberta school curriculum, we have lots of free extension activities for students from Kindergarten to Grade 12.
Financial tips to help you through this COVID-19 crisis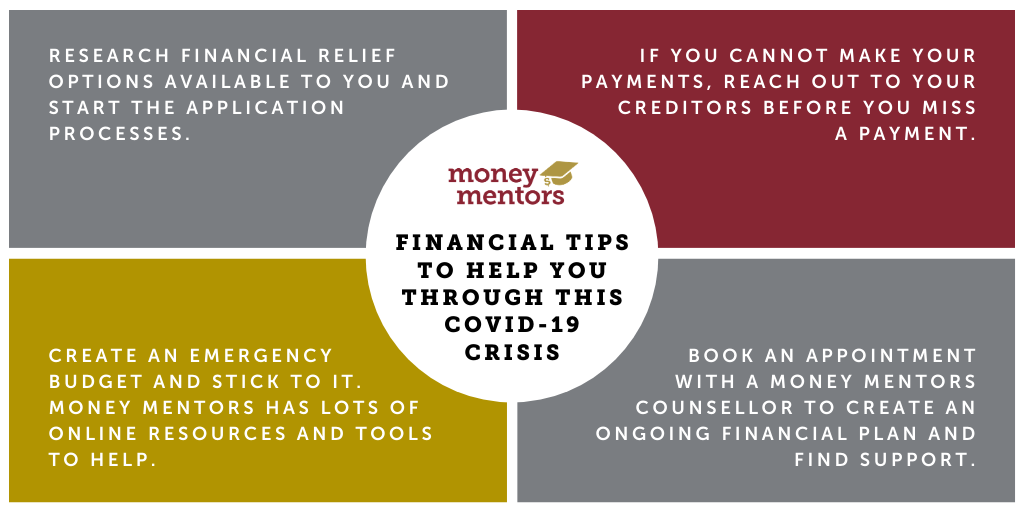 Read about more ways to save your money and protect your finances during this difficult time.
Look after yourself
If you are struggling right now, you're not alone! Alberta Health Services has created a wonderful hub for you to find resources and services to help you through this difficult time―from important phone numbers, self-help links, online resources, and community supports. Mental Health Commission has also put together a great tip sheet to help seniors look after their mental health during COVID-19.
Be aware of COVID-19 scams
Unfortunately, there are fraudsters preying on Canadian's fears, misinformation and distress, taking advantage of vulnerable people during this time. The Canadian Anti-Fraud Centre has listed all the COVID-19 scams they're aware of at this time, so please familiarize yourself with them so you don't become the next victim. And if you'd like to learn more about fraud detection and prevention, we have a free online course so you can protect yourself.
COVID-19 FAQs for Orderly Payment of Debts (OPD) clients
Can I defer my OPD payment?
If you are struggling with your OPD payment due to Covid-19 or any other issue, please call us to discuss options. We are here to help!
I hear that government/student loans/other creditors are deferring payments for Albertans. Does that affect my OPD program?
While we cannot defer payments for the OPD program, we do have measures in place to assist you to lower your payment or set it to zero temporarily. Once you are back to work, your counsellor will work with you on how to get your program back on track.
I'm getting emails from my creditors stating they are deferring payments―does this mean my OPD payment will be reduced?
We cannot pick and choose which creditor we disburse money to, so any payments you make will be split fairly amongst all your creditors. We do have the ability to assist with temporary payment arrangements and we will advocate on your behalf in the unlikely event of a creditor calling about the reduced payment. We will need to speak with you to set this up, so please contact us today.
Will I be penalized if I have to miss 3 months of payments?
We understand these are tough times. We ask that if you are at the point where you have missed 3 payments, please call us so we can set up a payment arrangement with you. As many Albertans are faced with the same challenges, we are committed to helping you become debt-free.
Will I need to catch these payments up?
With the OPD program, all arrears that accumulate remain on your program as it is a court order. However, we work with all our clients who are struggling and will come up with an option that is best for you. We will also discuss if there are any other options that may be more suitable based on your current situation.
Will Money Mentors stop the 5% interest on the OPD program?
We cannot stop interest on your OPD program. Some creditors may choose to forego interest at the end and if that is the case, they will notify us.
Take care, everyone!