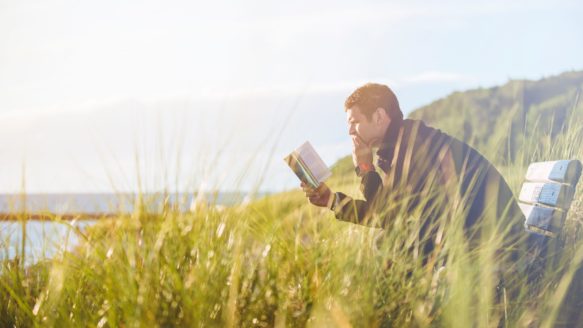 Summer Reading Recommendations
With the warmer weather here to stay for the next two months (or let's be real here because this is Alberta, the next two days), thoughts of lounging pool- or beach-side, or relaxing in the backyard, with a good book probably gets you through the work day. But what books are on your "Summer Reads" list? If you haven't included at least one personal finance book, you're missing out! But with so many options to choose from, how can you make sure you've picked the right one?
Well, that's where Money Mentors comes in. Our team has recommended their favourite personal finance books to help you get back on track, start planning your financial future or change your mindset about money. Take a look below!
Money habits and mindset:
"I recommend this book as a thought-provoking, but easy, summer read. The Canadian author challenged herself to spend 12 months only buying groceries, fuel and replacing worn-out clothing and broken items she used every day. Throughout the year of cutting back, Flanders discovers much more about herself―from how her past impacts her present and future, and how peeling back the layers of 'too much stuff' helped uncover what she really wanted. The book is authentic as well as positive and encouraging. Highly recommend!"
― Laurel Wyton, Edmonton Counsellor
Read this book if:
You want to learn how Cait Flanders got out of nearly $30,000 of consumer debt, only to fall back into old habits
You want to learn how to get out of the consumerism cycle (earn more, buy more, want more, rinse, repeat)
You are curious to see how Cait did not shop for an entire year
"I recommend this book as a straight-forward and humorous guide to rethinking our habits of signing-up, shopping and spending. The Canadian author gives a down-to-earth, practical approach to reconsidering the focus of our resources (time, money and energy) by making small adjustments to effect lasting and significant change. This great book is perfect for light reading and is sure to leave a big impression."
― Laurel Wyton, Edmonton Counsellor
Read this book if:
You want Pierre-Yves McSween to hold a mirror up to your life choices and their consequences
You want to question your spending habits and assumptions
You seek clever strategies to question your consumerist impulses and fill in your financial knowledge gaps
Retirement planning:
"Frederick Vettese is my personal guru and while I love all three of his published books, this one is my favourite. My reading focus, as of late, has been on retirement planning and Vettese lays it all out in an uncomplicated, enlightening way. He somehow has the answers to all my retirement questions, and I recommend this book to anyone nearing or thinking about retirement."
― Brian Betz, Calgary Administrative Lead
Read this book if:
You are worried about running out of money before you die
You want five clear strategies for making the most of your life savings
Financial planning:
"In his book Kevin O'Leary offers practical and actionable advice and education that can make a difference for people right away. He comes 'down' from the world of big business and talks in language everyone can understand. His advice covers circumstances that people have in every stage of life, so the book is relevant to pretty much any reader. He's also a straight-shooter and tells it like it is, which is both trust-inspiring and entertaining."
― Jason Krausert, Calgary Counsellor
Read this book if:
You are a parent struggling to explain savings to your children
You are a newly engaged or married couple considering joint bank accounts
You are a baby boomer entering retirement
You are anyone in between needing financial advice
"This book is an oldie but a goodie. It's a fun read that communicates an important financial message―pay yourself first! If you wait and save what's left at the end of the month, there likely won't be anything. The book goes well beyond that, however, and explains in easily understandable language other personal finance topics including: wills, life insurance, investments, RRSPs, taxes, debt management, mortgages, and more."
― Jason Krausert, Calgary Counsellor
Read this book if:
You want a light-hearted book on financial planning
You wish to take control of your financial future on an average salary
You want to make a financial plan to put into action
"I like Tony's approach on how to think about personal finance with some simple steps―most importantly, setting goals and making the decision to master this area in your life. There is a lot of information for people of every income level which is great to refer back to. He provides practical advice, but also reminds us that it's important to have a goal to live a life of meaning―being the richest person in the graveyard is not the goal."
― Michèle Liang, Marketing and Communications Manager
Read this book if:
You are interested in best practices on getting your financial house in order
You would like to become more financially savvy with tips and examples from other financial experts
You are looking for advice on how to create a lifetime income plan
Financial education:
"This book has practical, easy-to-follow guides on a variety of topics such as wants versus needs, emotional spending and its dangers, student loan borrowing and personal budgeting. This is a great read for teens looking to understand personal finance better and learn the tools necessary to set themselves up for financial success later in life. Highly recommend!"
― Kym Reynolds, Financial Literacy Coordinator (Schools)
Read this book if:
You are a parent or guardian looking to educate your teen on the importance and practice of money management
You are a teenager seeking further financial education to help you navigate through early adulthood
You want to learn more about smart shopping, setting up a budget, and building up and maintaining a good credit score
"This book demonstrates a solid introduction to personal finance. The book was engaging, informative and easy to read. It doesn't go too in depth into one specific topic. I would recommend this book to high school and college students. I love how Cary Siegel simplifies how you actually pay for things when you buy on credit. The book includes eight important lessons focusing on 99 principles that will quickly enhance any individual's money management knowledge. Enjoy!"
― Kym Reynolds, Financial Literacy Coordinator (Schools)
Read this book if:
You have graduated high school with a less-than-thorough understanding of personal finance
You are entering or in university and completely lost when it comes to money
You are a working adult looking for practical financial advice