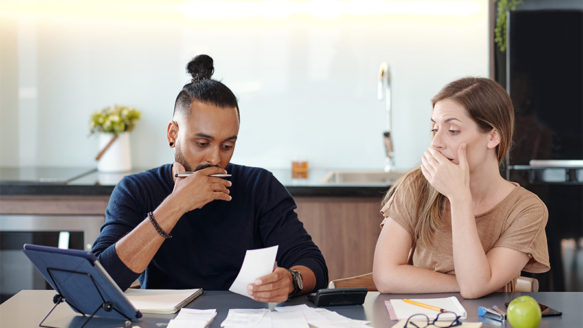 Alternatives to Payday Loans in Alberta
Sometimes life's ups and downs can lead to money problems that need quick solutions. A payday loan can seem like an easy quick-fix, like a band-aid. But just like a band-aid can't fix a broken arm, a payday loan often doesn't solve deep financial problems. In Alberta, payday loans are a big part of how people manage their money. In 2021 alone, Alberta's 15 licensed payday loan businesses reported activity that included 296,587 loans, amounting to a staggering total of over $227 million.
However, the appeal of payday loans often conceals a heavy burden. The cost of credit charged on these loans exceeded $24 million, and more than 8,500 loans, worth over $5 million, were written off. Furthermore, a significant number of loans defaulted, totalling approximately $20.7 million in value. It's not hard to see how many Albertans, such as Trevor who found himself drowning in over $60,000 in payday loan debt, or Russel who managed to navigate his way out of $35,200 in combined credit card and payday loan debt, can find themselves in financial turmoil due to these loans.
These facts show why it's important to look at other options besides payday loans. In 2021, almost 75,000 people took out a payday loan, and in more than 221,000 situations, people took out another payday loan, highlighting the urgency of finding better, more sustainable options. So let's have a look at some of the potential alternatives.
Credit Unions and Community Banks
Credit unions and local banks often give small loans for short periods of time. These usually have lower costs than payday loans.. For instance, some of Alberta's largest credit unions offer personal loans with competitive rates and flexible repayment terms. These institutions are community-focused and often provide more personalized service than payday loan companies.
Peer-to-Peer Lending
Peer-to-peer lending is a newer way of lending that lets people borrow money straight from others, cutting out the banks. There are platforms that allow Canadians to borrow from others who are looking to invest. A viable choice for individuals who may not meet the eligibility criteria for a traditional bank loan, but possess a respectable credit score, making them suitable candidates for a peer-to-peer loan. Every loan has a fixed interest rate that doesn't change, so your monthly payment stays the same for the whole loan period. Additionally, you have the flexibility to settle your loan ahead of schedule to avoid additional interest charges. If you decide to explore this option, make sure you compare lenders and make sure the interest rate is lower than a payday loan. In other words, read the fine print!
Personal Lines of Credit and Personal Loans
It's important to point out that if you are considering a payday loan for quick access to cash, then a personal line of credit or a personal loan may not be a viable option. However, we are including this option because some payday lenders offer a product known as a 'term loan'. These 'term loans' often come with much higher than average interest rates. If you are considering a 'term loan' through a payday lender, it may be beneficial to see if you qualify for a personal line of credit or a personal loan through a bank instead.
A personal line of credit is similar to a credit card but has a lower interest rate that can fluctuate based on current rates.  As long as you don't exceed your limit and continue to make minimum payments you can access your line of credit indefinitely. A personal loan is a fixed amount of money with a fixed interest rate that you must pay back in full within a fixed time frame. Both of these options can be used for anything you need, from buying a car to paying off your credit card bills. Personal loans and lines of credit from banks usually have lower interest rates than payday loans. Many banking institutions across Alberta extend personal loans with advantageous terms to their customers. These loans are flexible and can be used for many different financial needs, including everything from funding a major purchase to consolidating high-interest debts making them a good alternative to payday loans. These options may be more difficult to apply for and receive, however they are much safer and more manageable options to repay than payday loans.
What next?
Figuring out payday loans can be tough, but it's important to remember that they are not the only option. By exploring alternatives like credit unions, peer-to-peer lending, and personal loans, you can find a solution that fits your financial needs without the risk associated with payday loans. Before exploring formal borrowing options like those mentioned above, it's important to consider less formal alternatives:
Informal Loan
Ask friends and family who are willing to help and will likely not charge you any interest.
Side Hustle
Brainstorm ideas for a side hustle where you can work from home, or get a second job. There are plenty of options out there to bring in additional income.
Negotiate Bill Payment Options
Talk to the bill payment companies and request a more manageable payment option
Lending Circles
A lending circle is a group of people who form an association to lend each other money, usually at no cost. They can function as formal or informal organizations.
Purge and Sell
Go through your clothing, furniture, housewares, and entertainment items and price them to sell either in a garage sale, through a Facebook Buy & Sell group, or Kijiji. You would be surprised how much money you can make when you start to add up all of the things you could sell. Consider selling items you are not ready to part with but could sell for a considerable amount of money. The cost of a payday loan with high interest rates could end up costing you more money than the item you are holding onto. Try selling everything you can part with and purchasing again later when you are in a better financial position.
Finally, it's important to ask yourself the following questions:
Can I pay back the payday loan within the given time frame?
Is this loan for a one time expense?
Is this loan for an emergency?
Is this loan to catch up on bills?
Can it wait until I can save up?
Do you have a habit or addiction that is causing your need to borrow money?
If you are spending money on lottery tickets, alcohol, drugs, or any other habit that you need more money to support, we can connect you with resources to help you.
Remember, knowledge is power. By staying informed and understanding your options, you can make the best financial decisions for your situation. If you're unsure about your options or need help managing your debt, don't hesitate to reach out to a Money Mentors credit counsellor. We can provide unbiased advice and help you navigate your financial journey. There is absolutely no pressure to sign up to any program when you call Money Mentors – we're simply here to help!
Frequently Asked Questions
What are the interest rates for personal loans in Alberta?
Interest rates for personal loans in Alberta can vary depending on the lender and your credit score, although they generally range from 10%-20% with term lengths of 6-60 months. Typically, they are much lower than the rates for payday loans.
Can I use a personal loan to pay off a payday loan?
Yes, you can use a personal loan to pay off a payday loan. This can be a good strategy if the personal loan has a lower interest rate than the payday loan, as it can save you money in the long run.
Is peer-to-peer lending safe?
While peer-to-peer lending can be a viable alternative to payday loans, it's important to use reputable platforms and understand the terms of your loan. As with any financial decision, it's always a good idea to do your research and consider your options carefully.