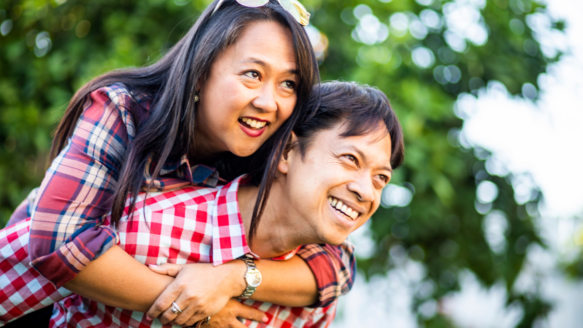 How Newcomers Grace and Marvin Rebuilt Their Family's Financial Future
As a newcomer to Canada, Grace was expecting certain challenges. But she wasn't prepared for her family's incoming financial hurdles.
"Back home in the Philippines, I had a very good life," Grace reflected. "I worked at a bank and had been raised with a solid financial foundation. I thought money was second nature to me. But what did I know?"
Upon arriving in Canada with her husband, Marvin, and their children, Grace faced newfound financial freedoms and choices. While it was easier to make money here, Grace and Marvin found it difficult to not overspend with so many companies handing out credit cards. It became a habit―click, swipe, charge, repeat. And like many of us, eating out and trying new foods was their downfall.
Money and marriage
Money and marriage do not always go hand in hand. Just like others in relationships, Grace and Marvin weren't transparent about their money. Having separate bank accounts, Grace was unaware of exactly how much money her husband owed.
"He was spending above his means," Grace said. "We started increasing our credit card limits. By the end, I had a $9,000 limit and my husband had five credit cards. We tried to pay them all off each month, but we quickly realized we were only able to afford the minimums―and eventually not even those."
With debts piling up and alarm bells ringing, Grace was at her wit's end.
"It came to the point where I wanted to divorce," she admitted. "I blamed Marvin for everything and our marriage suffered. As a result, my mental health suffered, too."
With the encouragement of a close friend, who told Grace that she and Marvin needed to work through this together, Grace started looking for ways to address their combined $25,300 debts. A Money Mentors ad popped up on her social media at the right time.
Money management support
Money management can be challenging to navigate for couples, but there is help. After their first appointment with Money Mentors, everything started falling into place. With the guidance of their counsellor, Suzanne, Grace and Marvin joined the Orderly Payment of Debts (OPD) program.
"I'm not going to lie―those were five of the most difficult years of our lives," Grace said. "It was hard on my family, my children. We started prioritizing payments over everything else, including food. What was left from our payments and bills at the end of the month went towards our food budget. Some months we'd only have $100 left and I'd wonder how that could feed a family of six.
"I cried nearly every day at just how bad we let things get. Sometimes I had to put on a brave face and call social workers for help, and other times I had to go to the Calgary Food Bank to keep us afloat. I couldn't believe that we brought our children to Canada for a good life and instead, we were tiptoeing the poverty line. Our children were eating Kraft Dinner while their friends were eating at restaurants."
But through it all, they learned.
One of Grace's biggest "aha" moments was one evening when her family wanted ice cream. They had the option between paying $3 per ice cream cone at an ice cream shop or going to the grocery store to purchase a $5 ice cream tub. What would have once been a no-brainer (local artisan ice cream shop with various flavours and customizations) became a more practical decision. Without batting an eye, Marvin opted for the ice cream tub to save money.
"That was the moment I knew we'd be okay."
Newcomers rebuild financial future
Together and with Suzanne's help, Grace and Marvin learned how to save and budget their money as a team, learning valuable money skills along the way. Over the five years, they completed many of our free online courses and plan on continuing their financial education in the future. They have learned how to be open and honest about their finances with each other, and work towards the same financial goals. Having paid off their last OPD program payment early, Grace and Marvin are ready to focus on their family again. They're excited about their future, and we are, too!
"Our experience with Money Mentors―and in particular, Suzanne―has been nothing short of wonderful," Grace praised. "It felt so good having someone in our corner who understood us and was willing to do whatever she could to help. People who are in debt can be sensitive and withdrawn, so having someone there to listen and care…it just means so much. Money Mentors made it feel like a very personal experience, which made all the difference because money is personal."
For others going through the same financial hurdles she and her husband faced, Grace offered this:
"I encourage anyone who is struggling with debt to not let it get any worse. The longer you wait to ask for help, the more trouble you can get in. If we were able to overcome our financial struggles in five years, you can, too!"
---
Money Mentors would like to thank Grace and Marvin for sharing their story. Congratulations on becoming debt-free!
If you would like to share your story, please contact our Marketing Manager.