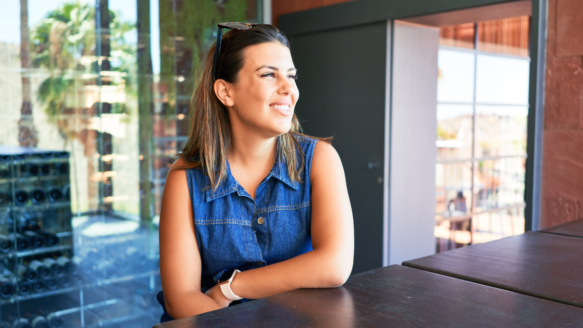 How Kim Became Debt-Free in 5 Years and Saved for Retirement
Four years ago―and over $28,000 in debt―Kim had reached the end of her rope.
"I was overcommitting, overspending, over the limit…and I was over it," Kim admitted. "I knew I needed some options as my income and lifestyle weren't going to get me out of debt."
That's when she came across Money Mentors and never looked back.
Step 1: Negotiating to reduce monthly payments
In her first appointment with her counsellor, Kim went from panic mode to reassurance that things could get better.
"Right off the bat, my counsellor told me I was paying too much for insurance and urged me to negotiate with my service providers or shop around to reduce my monthly payments," she said. "So that evening, I called my insurance provider and was able to cut my bill in half!"
But Kim didn't stop there. She made a list of her other service providers to reach out to, reducing her phone bill and mortgage by fifty per cent. It was then she knew she'd be okay.
Step 2: Getting out of debt with the OPD program and a cash budget
Afterwards, Kim sat down with her counsellor again to discuss her next best course of action, ultimately landing on the Orderly Payment of Debts (OPD) program.
"Joining the OPD program felt like a weight lifted off my shoulders," Kim remarked. "I was still financially responsible for my debts but now there was a plan in place to take care of them. Each month I knew exactly how much I was bringing home, how much my payments were, and how to budget accordingly."
And when it came to living off a cash budget, Kim was eager to give it a try.
"Yes, using cash only can be hard but at the end of the day, I knew I didn't have any credit card companies knocking on my door or interest building. And that's an amazing feeling."
Although the holiday season can be difficult to keep to a cash-only budget, Kim pushed through and started each new year feeling even more confident in her financial abilities. She also found it helpful being honest about her finances with her family and friends.
Step 3: Reduced mortgage payments and a retirement plan for debt-free living
While on the OPD program, Kim continued to put small amounts of money away each month into her savings account, building up a comfortable emergency fund.
"I'm really proud to have been on the OPD program," she exclaimed, "knowing that the program kept me accountable for all my debts and that I didn't let anyone down by not paying my debts back in full."
Kim also added that her needs and wants in life have become clearer thanks to her counsellor and that having support and guidance during this tough time was exactly what she needed.
"I will never regret that day I picked up the phone and made the call to Money Mentors."
As for what's next for Kim?
She's excited to pay off her mortgage as soon as possible by taking the money she'd allocated for OPD program payments and putting those straight towards her mortgage payments. From there, she plans to focus on a retirement plan and to keep making debt-free living a priority.
When asked what advice she would give to other Albertans in similar financial situations as she once was, Kim quickly responded: "Contact Money Mentors immediately. To have someone that has your back…it's a great feeling. Money Mentors changed my life, and I can't wait for what comes next!"
Key strategies you can try:
Do you also have trouble spending within your means as Kim did? Our free online course, Break the Cycle: Spend Less & Save More, will help you learn how to fix that.
If your budget doesn't seem to be working for you and your current financial situation or habits, it may be time to create a new spending plan. Here's how!
Learn how to stop spending money so you can focus on building a better financial future.
---
Money Mentors would like to thank Kim for sharing her story. Congratulations on becoming debt-free!
If you would like to share your story, please contact our Marketing Manager.