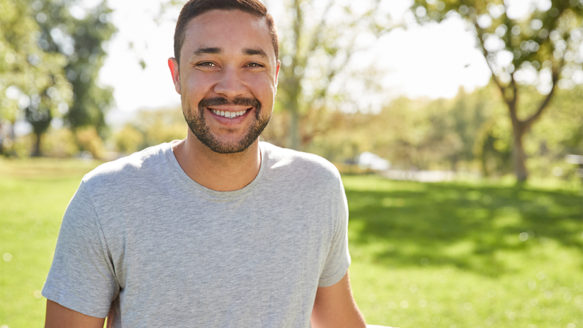 How Damien Repaid Payday Loans of $4,400 to Live Debt-Free
Just over a year ago now, Damien was beginning to feel overwhelmed by his financial situation. His bills felt exhausting and he couldn't seem to break free from the interest rates that were holding him back from financial freedom.
Damien came into Money Mentors with just $4400 of debt. It's not the usual amount Money Mentors counsellors see when meeting new clients, but it was still an unrealistic amount for him to maintain.
"I had anxiety from my debt," said Damien.
Damien went on the website, and then decided to call in to book an appointment. That's when he first connected with his new counsellor, Laura Lee.
"She helped me make a budget so that I could better manage my money," said Damien.
Where did the debt stem from?
Most of the time, clients come in and have heavy debt loads due to frivolous spending and consumer debt. However, Damien's situation was different. He was struggling due to necessity.
"I'm wearing a shirt that I own from seven years ago," joked Damien. "I don't spend a ton of money."
Upon moving to Calgary, Damien had trouble keeping up with payments and bills. Although he could make the minimum payments, Damien felt that the interest was keeping him stuck in the same spot.
"I was just paying them and paying them and paying them, but it wouldn't go down," he said.
In addition to a credit card and extra household bills, Damien had become trapped in the payday loan cycle. They called him regularly to receive payments.
"I was quite shocked that I owed that much money," said Damien. "I never wanted to ruin my credit."
What was the Money Mentors experience like?
Once a client signs on to the Orderly Payment of Debts (OPD) program, they are required to restrict themselves from all forms of credit. Damien said the budget was extremely helpful, and he didn't mind the cash-based spending plan at all.
"Unexpected bills were the hardest part," said Damien. "But I put some money aside each month to budget for emergencies now, so that worry has gone away."
When it came down to it, Damien explained that what he really needed was some sort of education in money management. The online courses Money Mentors offers were what helped him the most, he said.
"All these things I didn't know about, and now I do," said Damien. "I'm hoping I can start to rebuild my credit now."
Reducing spending and saving money felt great!
Once Damien made his final payment, he explained how good he felt in that moment.
"I still feel relieved honestly," said Damien, who also suggested that anyone in a similar situation contact Money Mentors for advice.
To this day, Damien still monitors his spending and joked that his friends laugh at him when he turns down invites because it's not in the budget.
"All of the payments I used to make on the program, I just continued to make those payments into a savings account for the vehicle I want to buy," said Damien. "It's nice to have some money saved."
Living life debt-free is something that Damien hopes to continue doing, while looking ahead to achieving small and large financial and personal goals on the journey.
---
Money Mentors would like to thank Damien for sharing his story. Congratulations on becoming debt-free!
If you would like to share your story, please contact our Marketing Manager.