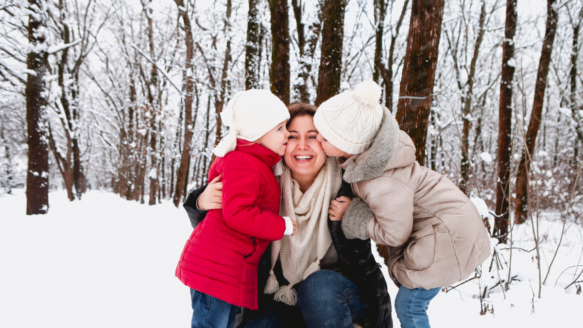 How Cheryl Created a Debt-Free Future for Her Family
In 2011, Cheryl and her husband decided it was time to face the truth: they needed financial help. With over $30,000 in consumer debt, consisting of four credit cards and one line of credit, it became near impossible for them to make their monthly minimum payments.
"My husband didn't realize we were dealing with that much debt or struggling that much," Cheryl reflected. "I told him that if we don't do this now it's only going to get worse."
After learning about Money Mentors through a commercial, the couple booked a free appointment with a counsellor near them. It was there that their counsellor, Paula, discussed their debt management options, including the Orderly Payment of Debts (OPD) program. Together, Cheryl and her husband agreed that the OPD program was the best option for them and their soon-to-be growing family.
With Paula as a witness to the start of their new financial journey, Cheryl and her husband cut up their credit cards and began living on a cash-only budget.
Growing pains for the growing family
But that wasn't the only way their life was going to change.
Just one month into the OPD program, Cheryl gave birth to a baby girl.
"It was a tough time," Cheryl said. "We went from having some spending money and a bit of cushioning with our credit cards to having a baby, going on maternity leave and starting the OPD program with cash-only.
"It was a marital struggle, for sure. But I reminded my husband that the sacrifices were worth the challenge. We knew these next four years were going to be bumpy but if we could get to the other side, we were going to be so much better in so many ways."
However, those bumps just kept on coming. A couple of years later while still on the OPD program, Cheryl and her husband had another daughter who developed severe allergies, causing the couple even further financial hardships. Not only did they have to start buying expensive formula for their new baby, but Cheryl couldn't go back to work after maternity leave as she had to deal with her child's severe health complications.
Where there's a will, there's a way
Despite these difficult years, Paula was there for them at every turn. When monthly OPD program payments were hard to make, or sometimes impossible, Paula and the rest of the Money Mentors team was more than understanding and helped them find a way around their ever-changing financial situation.
"It was important for me to become debt-free before our kids were old enough to understand what's going on," Cheryl said. "I definitely want to share our story with them because I want them to learn from our financial mistakes."
Growing up, Cheryl and her husband were raised with different financial values. Cheryl was taught to be frugal and limit spending; whereas her husband was raised by parents that spent money frivolously. When they met, it was easy for Cheryl to slip into his spending ways.
"It's crazy how easy it is to rack up credit card debt!"
Together, they want to create a healthy financial foundation for their children by teaching them about money early, so they don't make the same mistakes as their parents.
Looking ahead at a debt-free future
Four years since starting the OPD program, Cheryl and her family finally became debt-free. Not only did they pay off their consumer debt, but they also paid off their vehicle. Today, Cheryl is expecting her fourth child and she and her husband are looking forward to purchasing their dream home that will suit their family's needs.
"I still stick to the budget Paula originally made for us," Cheryl promised. "Throughout the OPD program, I figured out how we could save money and adjust our finances when everyday expenses increase because inflation happens. It's important to plan ahead."
When reflecting on her story and why she chose to share it with others, Cheryl replied: "There's a very negative stigma surrounding money with a lot of 'keeping up with the Joneses.' Think about how many years it took you to get into debt and how many years it'll take you to get out of it."
Comparing the time it took for her to get out of debt, Cheryl thought about how fast her children have been growing during this debt-free journey.
"Your child will go from a one-year-old to a five-year-old in the blink of an eye, and in that time you could be debt-free. Money Mentors is the way to go!"
---
Money Mentors would like to thank Cheryl for sharing their story. Congratulations on becoming debt-free!
If you would like to share your story, please contact our Marketing Manager.