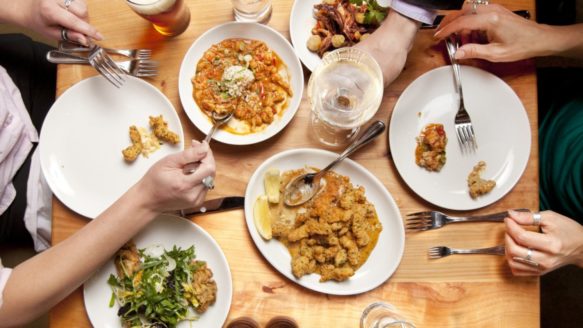 10 Creative Ways to Have Fun on a Budget
So, you've created your budget and you're probably thinking, "Yup, that's it, there goes my social life!" It's okay, we've all been there. But just because you're sticking to a budget doesn't mean that your social life must suffer. We're offering up some creative ideas for you to save your money while still having fun on a budget.
Savings on Food and Drinks
Stick to appetizers

At the restaurant, opt out of pricier entrees and share a few appetizers or desserts with your friends instead. Not only can you save money by doing this, but you can enjoy a wider variety of food.

Pregame drinks at home

Rather than spending a ton of money on drinks at a bar, take a page from a college student's book ― enjoy some drinks at home beforehand (but just make sure you can get to the bar safely afterwards).

Have a potluck

You don't have to go out to enjoy an array of delicious food and specialty drinks. Have a potluck with your friends, but set a limit on how much you spend for each contribution. It's a fun way to save money, have fun with friends and try lots of new recipes.

Affordable Entertainment Ideas

Hit the big screen

You don't have to skip the movies while on a budget! Go on the discount days, purchase movie passes from retailers like Costco or AMA at a lower cost or visit your local "cheap seats" theatre.

Attend free events

Your city has a whole slew of free things to partake in ― from street fairs, animal sanctuaries, concerts or movies in parks and art shows. Some places that usually charge admission offer free-entry days once a month, too.

Be on the Hunt for Savings

Sign up for deals

Websites like Groupon or LivingSocial are great ways to have fun on a budget. Browse through this week's offers and save money on restaurants, entertainment and more.

Ask for discounts

Take advantage of the many deals out there for students, seniors and members of the military. Show your driver's license or student ID to save you money at places like retailers, museums, zoos, parks, etc.

Enter contests

There are always a ton of contests and giveaways on social media and websites for sought-after restaurants, bars or concerts. Sign up for them all because someone has to win ― and it could be you!

Eat free

Lots of restaurants offer promotions for children and seniors to eat free or at a discount on certain days each week, as well as free birthday meals. It's a great way to enjoy a meal out without the hefty price tag.

Cash in on your credit card perks

If you have a credit card that offers points or cash back on tickets to events, movie theatres, etc., make use of that! Some credit cards will also give you early access or discounts to event tickets, so find out what your credit card can do for you.