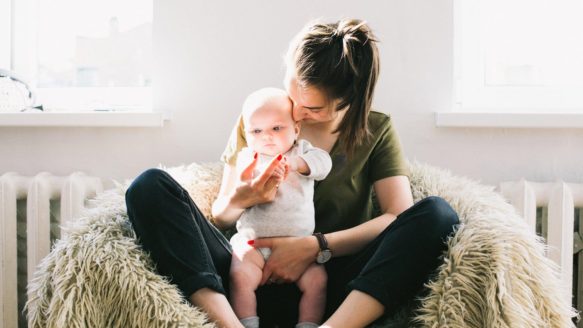 How Samantha Paid Off $85,000 as a Single Mom in School
Picture yourself as a student and single mother to a newborn baby living in a new province and $85,000 in debt. For most young adults in their twenties, life would have just begun, but for Samantha, her life was already evolving well beyond her years. As debt piled on, the stress from her financial burden started to affect her health, mentally, physically and emotionally.
Scared and afraid to ask her loved ones for help, she found Money Mentors' debt counselling services after hearing an advertisement on the radio during one of her many sleepless nights. Fast forward five years later, Samantha turned her financial crisis into financial wellness and a success story by avoiding bankruptcy and consolidating her debt with the Orderly Payment of Debts (OPD) program.
The depths of drowning in debt and divorce
While going through a divorce and raising her young child alone, Samantha's problems only worsened. She realized that the debt she had supposedly shared with her former husband turned out to be solely in her name. From overdrafts in the bank account to maxed out credit cards and a car loan she had co-signed for her ex, Samantha's credit rating was decreasing rapidly.
Despite her hardest efforts to pay off some of the outstanding debts, she was barely making ends meet for both herself and her child.
"For about four or five years before joining the OPD program, I tried to do it on my own but I was just sinking further and further. I was stuck with $85,000 of debt on a $32,000 annual income."
Struggling through life in a new province alone with her child, Samantha's parents travelled out to Alberta from Ontario to help. Prior to them coming to Alberta, Samantha's parents knew she was in financial trouble, but what remained unknown was the extent of her financial issues.
"I wasn't sleeping at all, to the extent that my doctor wanted to put me on medication. My hair was falling out and I wasn't eating. I was so concerned where the money for the food would come from—there were many nights where I would not eat so I could feed my daughter."
Pained by the sight of their daughter and grandchild's living condition, her parents soon realized the level of stress the debt was causing Samantha.
Credit counselling and financial help
Prior to reaching out to Money Mentors for credit counselling services, her parents had advised her to seek counsel with a debt counsellor—an idea that she would decline on various occasions, up until one sleepless evening when she heard an advertisement on the radio. She took it as a sign and scheduled her first appointment the very next day for a free credit assessment with Money Mentors.
"I was so nervous and stressed out. I didn't want to ask for help," Samantha said. "If it wasn't for my dad, I would have probably cancelled three or four times that day. But my counsellor, Iris, was kind and compassionate. She got me to open up about what I've been going through financially and emotionally—she was a great ear!"
Debt consolidation
Nervous and afraid, she was guided through the OPD program enrollment process by Iris and they began strategizing the next steps to help eliminate her debt. Samantha began to feel confident in the program and with the support of Money Mentors.
Financial wellness and literacy programs
Determined to create a better life for herself and her child, Samantha was determined to pay off her debt and graduate from college. During her time enrolled in the OPD program, she frequently attended the free in-person classes offered monthly by Money Mentors. Through the financial courses, she learned healthy spending habits and acquired skills to help her save money.
"I learned how to budget properly, cut out things that aren't needed and only to go with the necessities."
The next chapter: Lift and financial gains
Over the course of five years, Samantha managed to persevere and work through some of the toughest obstacles in her life. From a starting amount of $85,000 of debt, she was able to cut it all the way down to $8,000 and consolidated her final payment in March.
Following this turn of events in her financial life, her personal life was also improving along with her health. Samantha has since graduated from NAIT and was offered employment as a part-time instructor in the Bookkeeping program. In her personal life, she is currently planning a wedding with her fiance and saving to purchase a new home, starting the next chapter of her life.
"We have established short- and long-term goals with a plan in place to achieve them. I would never have known how to do that without Money Mentors!"
---
Money Mentors would like to thank Samantha for sharing her story. Congratulations on becoming debt-free!
If you would like to share your story, please contact our Marketing Manager.