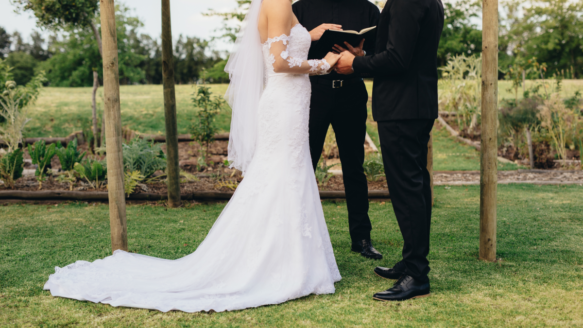 How Kelsi and Thomas Got Out of Debt Before Tying the Knot
Kelsi and Thomas was your typical young couple with goals to better their future together. Like most couples, their incomes were combined into one for regular spending, such as household needs and phone bills.
When they started on the Orderly Payment of Debts (OPD) program, their debt was manageable, but the inspiration to get ahead of their debt and be financially responsible motivated them to start a new life debt-free.
As Kelsi started researching online for suitable resources, she noticed Money Mentors offered services from debt counselling, money coaching to financial literacy, and she knew it was the perfect fit for their financial needs and desire to have a healthy relationship with money.
"Our debt was never out of hand. We just wanted to learn how to manage our finances before it got to a point where we couldn't cope or understand how to deal with it."
Consultation with a Money Mentors counsellor
With just under $20,000 of combined debt, the couple met with their counsellor, Iris, to strategize a repayment plan that would help them efficiently pay off the outstanding balance and get out of debt.
"I remember the first meeting vividly. Our counsellor gave it to us in black and white—there was no beating around the bush. She gave us exactly what we needed to hear about our spending and reassured us that our situation was definitely manageable. She made us feel at ease and was awesome at giving us that support!"
The importance of budgeting
After going through all of their debts with Iris, the couple realized they had not been exercising a particular step critical to achieving financial stability and having a healthy relationship with money: budgeting.
"We weren't budgeting at all, so that was something we took away from the meeting right away. We also learned how the credit card companies can take control of you if you don't stay on track and how hard you have to work for every dollar."
Kelsi and Thomas walked away from the consultation feeling motivated and in charge of their financial future. With the resources at hand, they created a household budget and started to pay off their debt immediately by participating in the OPD program.
New perspective: Reaching financial goals
In the beginning, it was an adjustment for the couple to live with an actionable budget—this was a new perspective for the young couple dealing with debts. With focus and clarity through the resources provided by their counsellor, Kelsi and Thomas were ready to start their path towards financial freedom and reaching their financial goals.
"I think having that pressure that, 'Yes, we have higher payments, but it's doable,' made us more conscientious of what we are spending our money on."
Prior to their new budgeting plan, the couple enjoyed dining out frequently, not realizing how much they were spending each month. As they became more aware of their spending habits, the couple decided to attend Money Mentors' free in-person financial classes to help them further their financial education.
"The courses really helped us learn how to budget. It was good at showing us, hey, we can have the luxury of eating out but we can also make a nice meal at home. It was all about knowing how to make those cuts."
Lessons learned as a couple
Like most couples, Kelsi and Thomas wanted to enjoy a leisurely life without the stress of crippling debt. Trying to always stay one step ahead of their debt, they decided to also plan for the future to ensure they are financially stable well into their years of retirement.
"The courses on budgeting, savings and especially the one about RRSPs and TFSAs,  were very beneficial because now we know how to manage our finances, and plan ahead for those unexpected things!"
The courses Kelsi referred to are Break the Cycle: Spend Less Save More (helping Albertans regain financial control, set goals and follow the SMART approach), Tackle Debt (detailing the credit system and the most effective ways to become debt free) and R & R in Retirement (how to include retirement savings your budget and how various retirement tools can work for you).
Beginning a new chapter: Enjoying a debt-free life
With determination and driven by their future goals, Kelsi and Thomas eliminated their debts within a two-year time-frame and four months earlier than the anticipated date.
"Time just flew by! We weren't affected by it. We just adjusted and were able to live with it, putting our minds at ease that we were able to work towards that final goal having everything paid off!"
The couple successfully consolidated their debts, paying off a total of $17,973.05. The soon-to-be newlyweds are planning to get married in August and start a new chapter in life as a debt-free couple.
---
Money Mentors would like to thank Kelsi and Thomas for sharing their story. Congratulations on becoming debt-free!
If you would like to share your story, please contact our Marketing Manager.